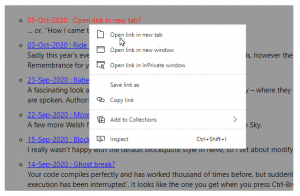 After years of automatically coding target="_blank" on every external hyperlink on my Web site, I've finally come to the realisation that this isn't good practice, and I've just spent a couple of hours tracking down every last one and changing them so that they all open in the same tab. There were hundreds of them… and I've only done the pages so far – I'll do the posts tomorrow!
If you like coding hyperlinks so they open in new tabs by default, read on, and let's see if I can convince you to join me in my sudden epiphany.
I think the main reason why Web site designers like to force their visitors to open external links in a new tab is that they might want them to be able to return to the page on their site quickly and easily, even if the visitors have spent some considerable time wandering through a large number of pages on the external site. That was always my excuse.
But if your visitors really want to return to the original page on your site, they could just have right-clicked your link in the first place and opened it in a new tab themselves. Did you consider that they may have made a conscious decision that they wanted to leave your site for good, but there was no right-click option to enable them to Open link in same tab? Forcing them to open links in a new tab takes control away from them – it doesn't give them any functionality they didn't already have.
Furthermore, if you force links to open in a new tab, your visitors might not even realise this has happened, and they might wonder why their browser's Back button suddenly doesn't work, especially when they're working in the very crowded environment of a mobile phone screen.
There may be exceptions, such as when someone is part-way through filling out a form, and you need to give them some additional information or assistance without abandoning the form and losing the data which they've already entered.
Convinced?
I'll give a couple of other people a chance to explain this better. Take a look at what the Be like water and UX Collective Web sites have to say on the subject, and if you want to let me have your feedback, you can do so via this contact form or by emailing me.
Happy coding!