This section is currently under construction. Please bear with me whilst I organise my favourite music links for publication.
Titles will link to Amazon so that you can read a review and buy online. If you buy any of the albums featured on this page by clicking one of the links, I'll receive a small commission payment.
---
Blues
'Chicken Shack: The Complete Blue Horizon Sessions' (Blue Horizon)
Christine Perfect (McVie) leads the band which was later to spawn Fleetwood Mac on a 56-track three-disc set which includes all of Chicken Shack's classic tracks.
'Duster Bennett: The Complete Blue Horizon Sessions' (Blue Horizon)
Forty-four tracks from the incomparable Duster Bennett in a two-disc set.
---
Jazz-rock fusion
'Mahavishnu Orchestra: Original Album Classics' (Columbia)
Five classic albums from the early seventies – a great way to acquire John McLaughlin's seminal works at a ridiculously cheap price.
---
Amazon gift certificates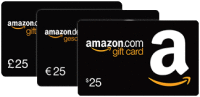 Buy someone the gift they really want – even if you don't know what it is!
Amazon Gift Certificates can be used on any of the millions of items available on Amazon, they're available in any amount from £1 to £1000 and are delivered absolutely free of charge:-
By email: email a personalised gift certificate for immediate delivery
By hand: print a personalised gift certificate on your own printer to send or deliver by hand
By post: a personalised gift certificate by post
---
If you discover any broken links anywhere in this section, please fill out this contact form or email me and I'll fix them as quickly as I can.