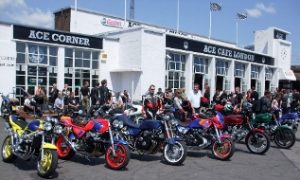 I've compiled this list of bike stops from places I've visited and other places which have been recommended to me by friends. The list doesn't include pubs. If you visit any of these stops and have updated information which you'd like me to include, please email me using this link. If you discover any biker-friendly places which aren't in my list, please email me using this link.
All distances are measured from my house in Gloucester. To calculate the distance from another location, paste the postcode or the latitude/longitude provided into Google maps. Please note that individual postcodes often cover a large area and only offer an approximate location. The latitude/longitude figures are as close as I can calculate and should be correct within a very few yards.
Opening times are provided where known. These were correct at the time of publication but please don't rely on them being correct as they can change without me being informed.
Entries are shown in order of distance from my house, nearest first.
Ali B's Cafe, Gloucester (2.0m)
Norton Garden Centre. A great place to get a bite to eat. Ali's cakes are home made & truly scrumptious. Bikers most welcome (Ali rides a ZZR1400). Open seven days a week.
Satnav info: GL2 9PU or 51°54'04.9″N 2°13'03.5″W
Joe & Jen's Posh Nosh, Kingsditch, Cheltenham (6.9m)
Van outside Tool Station on Kingsditch Industrial Estate. Open Sundays.
Satnav info: GL51 9PB or 51.917249°N 2.096388°W
J10 Breakfast Van, Uckington, Cheltenham (7.7m)
Van just off J10 of the M5 in a nice big lay-by. Please note: you can only exit the M5 southbound at this junction and join northbound.
Satnav info: GL51 9SX or 51.92459°N 2.12991°W
Ken's Breakfast Van, Moreton Valence, Gloucester (8.8m)
Van on the A38 south of Gloucester.
Satnav info: between GL2 7ND and GL2 7NH or 51.79186°N 2.30930°W
http://kensbreakfastvan.gofreeserve.com/
Stables Café, Saul, Gloucester (12.4m)
Recommended by a friend. The words "great" and "breakfast" were mentioned!
Satnav info: GL2 7LA or 51.779433°N 2.358251°W
Market House Café, Ledbury, Herefordshire (13.7m)
Varied menu, large scones with generous dollops of clotted cream and raspberry jam.
Nice 'gifty' shops nearby, cheap parking.
Satnav info: HR8 1BN or N52.03736° W2.42220°
http://www.markethousecafe.co.uk/
The Black Shed Café, Slimbridge, Glos (19.1m) – closed!
Fairly good café adjacent to a swing bridge on the Gloucester and Sharpness Canal. Sit outdoors and watch the water traffic go by.
Satnav info: GL2 7BP or 51.73596°N W2.39553°W
http://www.pubsgalore.co.uk/pubs/69875/
13-Mar-2016 : Went for a quick bimble down to The Black Shed with Laurie Foster and it was closed. In fact there's at least one gaping hole in it, so it's effectively open to the elements. There's building waste all around it and a passer-by said she didn't know whether it was ever going to re-open.
Anchor Tea Shoppe, Tintern, Gwent (23.1m)
Decent café in the shadow of Tintern Abbey and next door to The Anchor Inn.
Satnav info: NP16 6SQ or 51.79095°N 2.45361°W
Bringsty Café, Bringsty, Herefordshire (23.4m)
Biker friendly. Nice big fry-up but lovers of Heinz tomato ketchup should bring their own!
Clean toilets, some outdoor seating.
Nice approach/departure on A44 Bromyard-Worcester road.
Satnav info: WR6 5UJ or 52.19459°N 2.43507°W
http://www.facebook.com/BringstyCafeA44/
http://bringsty-cafe.webs.com/
http://www.ifancyafryup.co.uk/cafes/england/herefordshire/bromyard/bringsty-cafe-was-route-44.html
RAF Defford Café, Defford, Worcestershire (24.0m)
Forties-style café in old RAF Defford premises. No fry-ups but nice bacon or sausage butties and cream teas.
Satnav info: WR8 9DW or 52.10509°N 2.16606°W
Wickwar Coffee Shop, Wickwar, Gloucestershire (28.4m)
Nice coffee shop, pleasant staff, good service.
Satnav info: GL12 8NP or 51.594978°N 2.399858°W
Dom's Bike Stop, Leominster, Herefordshire (31.5m)
Run by a biker for bikers. Outdoor and covered seating.
Service sometimes slower when large groups appear unexpectedly!
Satnav info: HR6 0NA or 52.22266°N 2.72030°W
http://www.domsbikestop.co.uk/
OK Diner, Leominster, Herefordshire (32.4m)
American style diner.
Satnav info: HR6 0DQ or 52.23282°N 2.73071°W
http://www.okdiners.com/find_a_restaurant/leominster
Oasis Café, Abergavenny, Monmouthshire (33.9m)
Popular weekend meeting place for bikers. Limited seating and long queues for service.
Satnav info: HR8 1BN or 51.81981°N 3.01518°W
Queenswood Café, Hope-Under-Dinmore, Herefordshire (34.4m)
Recommended by a friend. Usually bikes there and nice cup of hot chocolate.
Satnav info: HR6 0PY or 52.159856°N 2.72223°W
Unnamed Van, Bath Road (A46) near Chipping Sodbury(42.3m)
Van just off J18 of the M4.
Satnav info: postcode unknown or 51.505783°N 2.347767°W
Riverside Café, Tenbury Wells, Herefordshire (51.1m)
Not well signposted – park round the back of the Bridge Hotel and you'll find it.
Nice fry-up, friendly service, free tea/coffee top-up with a full breakfast.
By the side of the (muddy!) Rivere Teme. Some outdoor seating.
Satnav info: WR15 8AE or 52.313508°N 2.594679°W
http://www.tenburywells.info/suzies-cafe-and-tabs-tearoom-restaurant/
The River Café, Glasbury, Herefordshire (52.1m)
Nice little café next to the river. Parking opposite, fairly easy to find. Service was good although they don't serve food very late on a Sunday. Worth a stop if you're out that way.
Satnav info: HR3 5NP or 52.045393°N 3.19634°W
http://www.therivercafeglasbury.co.uk/
Food Stop Café, Quatford, Shropshire (52.8m)
One of the top biker cafés in the Midlands. Very busy when I visited on a sunny day in June.
Satnav info: WV15 6QJ or 52.509566°N 2.386721°W
http://www.thefoodstop.co.uk/
Crossgates Service Station, Powys (54.4m)
Large café, good service.
Satnav info: LD1 6RE or 52.27508°N 3.33597°W
http://www.rigsville.org.uk/breakfast/cat.asp?iCat=66
The Divine Café, Cherhill, Wilts (54.4m)
Recommended by a friend. Looks fairly small on Google Maps.
Satnav info: SN11 8UU or 51.42858°N 1.95486°W
http://www.divinecafe.biz/
H Café, Berinsfield, Oxfordshire (57.0m)
Very popular bikers café, packed on sunny weekends. Some outdoor seating.
Next door to Alex George (bike parts & accessories).
Satnav info: OX10 7LY or 51.65883°N 1.17659°W
http://www.h-cafe.co.uk/
http://www.alexgeorgeltd.co.uk/
Lock Inn Café, Bradford-on-Avon, Wiltshire (57.0m)
Great staff and huge fry-ups served outdoors or in quirky 'Wendy' houses.
Satnav info: BA15 1LE or 51.341651°N 2.251752°W
http://www.thelockinn.co.uk/
Waterfall Café, Cheddar, Somerset (62.9m)
I haven't been here but it's been recommended by several friends.
Satnav info: BS27 3QE or 51.279136°N 2.774134°W
http://cafe.b99.co.uk/cheddar/the-waterfall-cafe/
Strand Café, Talgarth (63.9m)
Nice family-run café embedded in a bookshop.
Satnav info: LD3 0DB or 51.995268°N 3.232332°W
http://www.walesdirectory.co.uk/tourist-attractions/Restaurants/Wales11696.htm
Super Sausage Café, Potterspury, Northamptonshire (74.1m)
Nostalgic classic bikers' café. I haven't been here but it's supposed to be good.
Satnav info: NN12 7QD or 52.08715°N 0.90790°W
http://www.supersausagecafe.co.uk/
Owl's Nest Tea Room Diner, Llandovery (87.1m)
Bikers' café. I haven't been here but it's supposed to be good.
Satnav info: SA20 0DJ or 51.987746°N 3.80675°W
https://www.facebook.com/owlsnesttearoomdiner/
Red Kite Kiosk, Clywedog Dam (91.9m)
Family-run café, open Sundays, all home made food at sensible prices. A stunning place to visit.
Just make sure you turn RIGHT out of the car park – uphill!
Satnav info: SY18 6NU or 52.468572°N 3.604644°W
http://llanidloes.com/red_kite_kiosk/
http://www.facebook.com/redkitekiosk/
Ace Café, North Circular Road, London (94.3m)
Very popular bikers café, packed on sunny weekends.
Satnav info: NW10 7UD or 51.54132°N 0.27779°W
http://www.ace-cafe-london.com/
Lyn's Raven Café, Whitchurch, Shropshire (101m)
Locally sourced produce, homemade pies and puddings, Sunday lunch carvery, eat in or take away.
Good disabled access, seating for 250 people, television, pool table.
Satnav info: SY13 2AF or 52.937766°N 2.660920°W
http://www.lynnsravencafe.co.uk/
Ponderosa Café, Horseshoe Pass, Llangollen (128m)
Very popular bikers café set in a stunning mountain location.
Satnav info: LL20 8DR or 53.02424°N 3.20446°W
http://www.ponderosacafe.co.uk/
Wessons Café, Heathfield, East Sussex, (164m)
Bikers' café. I haven't been here but it's supposed to be good.
Satnav info: TN21 0ER or 50.9352°N 0.2447°E
http://www.wessonscafe.com/