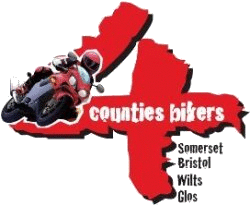 The group was formed by a small group of biking friends from the four counties of Bristol, Somerset, Gloucestershire and Wiltshire – although it's not exclusive to people who live those counties – with the aim of sharing their experience with as many people as they can.
Their mission statement: "We are not a Club. There are no fees or subscriptions. We are not a Society. We do not ask for allegiance or Brotherhood and all that bollocks. We dont have clipboards, spreadsheets, documentation checks or any other intrusive shite. What we have is trust in each other."
Everyone is welcome regardless of the size of their machine (from 125cc upwards) or their level of experience (learners included). You will learn from the veterans.
If you want to join a group whose emphasis is on organising regular ride-outs of varying distances and in various directions throughout the year, including charity fund-raising events and attendance at Remembrance Day parades, with a core of veteran riders who have time and patience with less experienced members and an exemplary record of road safety, then this is the group for you.
In common with many other groups, 4CB uses the 'second man drop-off' system and you should try to familiarise yourself with this system if you intend to join their ride-outs. You can also watch an excellent video made by one of the group's members at http://www.youtube.com/watch?v=HGXRtvk3_EQ.
Please check the group's Facebook page or Web forum for more information about 4 Counties Bikers and details of forthcoming ride-outs.
---
If you spot any errors on this page, please fill out this contact form or email me and I'll sort them out as quickly as I can.