This section is currently under construction. Please bear with me whilst I organise my favourite non-fiction book links for publication.
Titles will link to Amazon so that you can read a review and buy online. If you buy any of the books featured on this page by clicking one of the links, I'll receive a small commission payment.
---
Social history
'The English: A Social History, 1066-1945' by Christopher Hibbert (Paladin Books)
If you want to know what made England what it is today, this book covers it all. At seven hundred pages you won't finish it in a single sitting and Hibbert's wordy style sometimes forces you to read some sentences twice in order to understand them once, but nevertheless he provides a fascinating insight into the way England has developed over the last nine hundred years. Thanks, Cindy, for recommending this book to me!
'The Rise and Fall of the House of Medici' by Christopher Hibbert
"At its height Renaissance Florence was a centre of enormous wealth, power and influence. A republican city-state funded by trade and banking, its often bloody political scene was dominated by rich mercantile families, the most famous of which were the Medici. This enthralling book charts the family's huge influence on the political, economic and cultural history of Florence." (Amazon Review)
'The Leopard' ('Il Gattopardo') by Giuseppe Tomasi Di Lampedusa
"A modern classic which tells the spellbinding story of a decadent, dying Sicilian aristocracy threatened by the approaching forces of democracy and revolution. In the spring of 1860, Fabrizio, the charismatic Prince of Salina, still rules over thousands of acres and hundreds of people, including his own numerous family, in mingled splendour and squalor. Then comes Garibaldi's landing in Sicily and the Prince must decide whether to resist the forces of change or come to terms with them." (Amazon Review)
---
Engineering
'Structures: Or Why Things Don't Fall Down' by J E Gordon
A fascinating description of why things are made the way they are.
---
Amazon gift certificates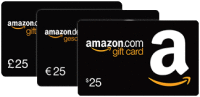 Buy someone the gift they really want – even if you don't know what it is!
Amazon Gift Certificates can be used on any of the millions of items available on Amazon, they're available in any amount from £1 to £1000 and are delivered absolutely free of charge:-
By email: email a personalised gift certificate for immediate delivery
By hand: print a personalised gift certificate on your own printer to send or deliver by hand
By post: a personalised gift certificate by post
---
If you discover any broken links anywhere in this section, please fill out this contact form or email me and I'll fix them as quickly as I can.