This section is currently under construction. Please bear with me whilst I organise my favourite fiction book links for publication.
Titles will link to Amazon so that you can read a review and buy online. If you buy any of the books featured on this page by clicking one of the links, I'll receive a small commission payment.
---
Culture
'Baron's Court, All Change' by Terry Taylor
The Holy Grail of Beatnik novels. Terry Taylor's only published book, unavailable for decades, documents one summer in the life of the unnamed sixteen year-old narrator. He leaves his suburban home and boring job as a shop assistant for a pad in central London, courtesy of the money he makes from a break into dealing dope. Along the way he dabbles in spiritualism and is seduced by an older woman." (Amazon review)
Dated now but an interesting read if you were around in the Sixties.
---
Horror
'The Hot Zone' by Richard Preston
Doomsday scenario as a killer virus is unleashed on the planet.
'The Cobra Event' by Richard Preston
Crazed scientist releases a man-made virus in New York.
---
Humour
'Home Truths: A Jaunt Around the Decaying Heart of England' by Bill Murphy
A coruscating look at the "decaying heart of England". Gloucester and Cheltenham do not escape lightly, and the only reason Swindon was not included was because "it's too easy a target". For my family in Kent, Maidstone is mentioned…
---
Philosophy
'Atlas Shrugged' by Ayn Rand
A towering philosophical novel that is the summation of Rand's Objectivist philosophy. Hugely influential and grand in scope, this story of a man who stopped the motor of the world expounds Rand's controversial philosophy of Objectivism, which champions competition, creativity and human greatness." (Amazon review)
Whips along at an impressive pace for a book of 1050+ pages – printed in a smaller-than-usual font – except when Rand pauses the action and allows her political and philosophical beliefs to come to the fore.
---
Amazon gift certificates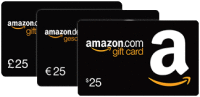 Buy someone the gift they really want – even if you don't know what it is!
Amazon Gift Certificates can be used on any of the millions of items available on Amazon, they're available in any amount from £1 to £1000 and are delivered absolutely free of charge:-
By email: email a personalised gift certificate for immediate delivery
By hand: print a personalised gift certificate on your own printer to send or deliver by hand
By post: a personalised gift certificate by post
---
If you discover any broken links anywhere in this section, please fill out this contact form or email me and I'll fix them as quickly as I can.