This section is currently under construction. Please bear with me whilst I organise my favourite film links for publication.
Titles will link to Amazon so that you can read a review and buy online. If you buy anything from this page by clicking one of the links, I'll receive a small commission payment.
---
Comedy
'Marx Brothers Boxset: A Girl in Every Port/The Cocoanuts/Love Happy/Room Service/Animal Crackers/Monkey Business/Horse Feathers/Duck Soup' – the eight earlier Marx Brothers films.
'Marx Brothers Collection: A Night At The Opera / A Day At The Races / At The Circus / Go West / The Big Store / A Night In Casablanca' – the six later Marx Brothers films.
---
Pre-code Hollywood
Pre-Code Hollywood Classic Clips by Kevin Wentink – a nice collection of fairly short clips from the golden age of Hollywood, with more being added periodically.
---
Amazon gift certificates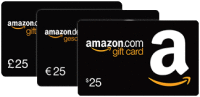 Buy someone the gift they really want – even if you don't know what it is!
Amazon Gift Certificates can be used on any of the millions of items available on Amazon, they're available in any amount from £1 to £1000 and are delivered absolutely free of charge:-
By email: email a personalised gift certificate for immediate delivery
By hand: print a personalised gift certificate on your own printer to send or deliver by hand
By post: a personalised gift certificate by post
---
If you discover any broken links anywhere in this section, please fill out this contact form or email me I and I'll fix them as quickly as I can.