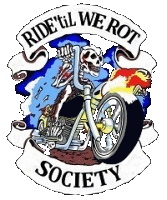 The Ride 'til We Rot Society is a society of people who continue to ride in the face of a disability or after a road accident and who have overcome the fear of falling. It's strictly about fun, riding motorcycles, good ole days, campsite stories, rallies, pubs, parties and general biker things.
RtWR is not an MC, MCC, RC, side patch, 1% or other similar type of club but there is a one-piece back patch available on merit. Ride 'til We Rot members – 'Rotters' – are friends to all riders, no matter what their affiliation. It exists to complement not compete with other clubs and you can be a member as well as being in any other club or organisation, or join as a support member. You don't have to be disabled, although we do have a large proportion of members with a variety of disabilities.
If you're interested in becoming a member, collar me at a bike meet or ride-out, or go to The Ride 'til We Rot Web site and contact a Regional Representative.
RtWR also has a Facebook page.
---
If you spot any errors on this page, please fill out this contact form or email me and I'll sort them out as quickly as I can.