This section is currently under construction. Please bear with me whilst I organise my favourite TV and radio links for publication.
Some titles will link to Amazon so that you can read a review and buy online. If you buy anything from this page by clicking one of the links, I'll receive a small commission payment!
---
Internet Radio Stations
You can access radio stations from around the globe using your Web browser – stations which you've never heard of and you never dreamed existed, and which you can't access using your normal radio receiver. I've listed a few here. In some cases I've included a link direct to the stream but in some cases you may have to go to the station's home page and click the ► play button in a media player widget:-

Please check your device's volume control or adjust the volume in the widget before hitting the play button, as I don't seem to be able to load this widget on a low volume setting!
Note that there are sometimes multiple links on the same line in order to keep the page length shorter and avoid excessive scrolling.
Italy
A small and unashamedly FVG-centric selection of Italian radio stations:-
Blues
Blues Music 4 Ever (home page): Chicago-style blues, gospel, swingin' jump blues, New Orleans style, Delta blues, East or West Coast blues, Louisiana blues, Memphis blues, and many more. (Listen to stream)
Ska
Bluegrass/Country/Cajun
Folk
If you've never listened to any Romanian folk music, you might like to check these stations out for some (usually) fairly high-energy stuff:-
Others worth a look…
Party Vibe Radio (home page): a wide selection of separate channels providing popular modern styles including ambient, drum & bass, dubstep, jazz, pop, psychedelic trance, rap, reggae, rock and techno as well as others such as country, folk, indie, hip hop and dancehall.
Comedy
Oldies such as Dad's Army, Steptoe & Son, The Men from the Ministry, The Goon Show, Beyond Our Ken, The Clitheroe Kid, I'm Sorry I'll Read That Again, I'm Sorry I Haven't A Clue, Yes Minister, The Navy Lark and Hancock's Half Hour as well as some newer stuff such as Cabin Pressure and The Count Arthur Strong Radio Show:-
I'll add more of my personal favourite stations in due course but in the meantime, they're fairly easy to find if you Google 'internet radio' with one or two keywords ('ska', 'venezia', or whatever).  Happy listening!
---
Internet Radio
I'd already collected several dozen browser bookmarks for my favourite Internet radio stations before I became aware that dedicated Internet radios even existed.  I liked the idea of a having a separate box which I could move from room to room and after much research I purchased an Ocean Digital WR282CD Internet Radio.  As well as having an updateable catalogue of over 32,000 Internet stations, it receives normal FM and DAB transmissions and can act as a Bluetooth speaker.  It also has a sleep timer and two alarms (repeatable weekly or by day-of-the-week), a remote control and a printed user manual.  There's a colour display showing which station you're listening to, you can browse stations by genre and country, save your favourites, and it holds a history of your most-recently accessed stations.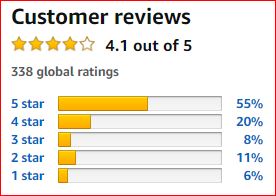 I paid £60 for the WR282CD eighteen months ago but this exact unit no longer appears on Amazon: it seems to have been replaced recently by a very similar-looking model called the WR210N at the same price but with the advantage of a rechargeable battery – the one I have is mains-only.  Take a look at the Ocean Digital WR210N product page on Amazon, click on the Customer reviews image on the left to go to the Amazon page where you can read the customer reviews and Q&A, or visit Ocean Digital's Web site.
---
Comedy
'Gogs: The Complete Collection'
Every ten-minute episode from Series One and Two, plus Gogwana, a half-hour special. All the toilet humour you – and your children (and grandchildren!) – could ever want, and without any bad language. Watch this YouTube clip.
---
American shows
Sledge Hammer Series 1 & 2
A must for fans of this show which was broadcast late-night in the UK on ITV in the 80's and 90's.  IMDB rating 8.2/10, Amazon reviews 72% 5-stars.  The complete Series 1 & 2 on six discs.  Starring David Rasche and Anne-Marie Martin. Watch this YouTube clip.
---
Amazon gift certificates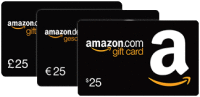 Buy someone the gift they really want – even if you don't know what it is!
Amazon Gift Certificates can be used on any of the millions of items available on Amazon, they're available in any amount from £1 to £1000 and are delivered absolutely free of charge:-
By email: email a personalised gift certificate for immediate delivery
By hand: print a personalised gift certificate on your own printer to send or deliver by hand
By post: a personalised gift certificate by post
---
If you discover any broken links anywhere in this section, please fill out this contact form or email me and I'll fix them as quickly as I can.