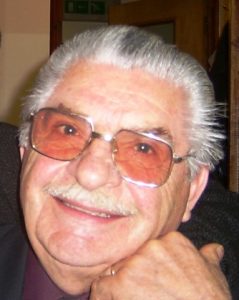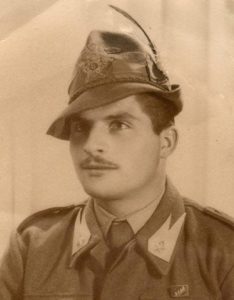 Dad sadly passed away on Monday 27th April 2019, just three months after losing his beloved wife. A service was held at St Peter's in Gloucester, conducted by Deacon Colm Robinson, at which Dad arrived in style, draped in the Italian flag as befitting a former soldier.
The service was followed by a gathering of his family and friends at The Arbor Room, where there was a distinct feeling that an era in Gloucester's history had come to a close.
You can read Dad"s Eulogy below – it will certainly give you some idea of the sort of person he was!
Francesco Luigi Lacchin – 'Checchi'
14.11.1925-27.04.2019
---
Eulogy
Read by Deacon Colm Robinson
Frank – or "Checchi" as he was known to his family and closest friends – was born in a small village in north-east Italy at the foot of the Dolomites, just a mile from where the love of his life, Lina, was born a few years later. Most of you heard the story of their meeting and courtship just three short months ago when we were here celebrating her life.
Things weren't easy in those days, and by 1950 Frank and his two remaining brothers had decided to seek their futures in England. Frank arrived in Gloucester with just the clothes he was wearing and a small brown suitcase containing amongst other things a framed photograph of Lina. In 1953 he went back to Italy and married his sweetheart, then brought her back to Gloucester where they started to make a new life for themselves, first in a small flat on the corner of Worcester Street, just a few yards away from here, and then in Brook Street where sixty years later the house still bears the name he gave it: "Villa Alba".
Frank had an admirable work ethic and there was nothing he wouldn't tackle – bricklaying, carpentry, plumbing, glazing, decorating and electrics… although his family recalls his relationship with electricity fell more into the category of "enthusiastic" than "proficient". But he managed to survive his enthusiasm unscathed and within ten years not only had he transformed the family home in Brook Street but he had sent enough money back to Italy to have a house built for his ageing parents. Sadly his father never got to enjoy his new home but it became the focus of many memorable family holidays for the next thirty years, even though Frank would spend those holidays working on the house – painting the many yards of iron railings and the wooden doors and window shutters and tidying up the garden.
He could never sit still if there was something that needed doing, and always on the lookout for something that could be fixed or improved. Even well into his 60's, when he'd finished working on his own house he was always ready and willing to work on his children's houses, and even single-handedly built his daughter an extension on her first house.
When he came to England he was already acquiring a reputation for himself as a talented and innovative chef. With several years spent in France training as a pastry cook and in Venice learning classical cuisine under some of the best Italian chefs, he was awarded a gold star by Egon Ronay and was once voted "Best Chef in the West". He sculpted Gloucester Cathedral in chocolate for the Coronation and for a few years he and his brothers ran a successful restaurant in Mayfair which became the haunt of many famous actors, pop stars and footballers.
Frank was always very fit and athletic, and there are many black and white photographs of him as a young man performing gymnastic acts of strength, balance and agility. Rudy remembers him at the age of forty being able to perform a standing back somersault and Sonia can describe how he taught her do somersaults ten years later by demonstrating them himself. They both wonder to this day how it was that he managed to fall off so many roofs and ladders in his time, but put his survival down to good landing skills! In fact when the garage roof at their home was damaged in a storm a couple of years ago, Frank had to be persuaded not to climb a ladder to fix it himself – at the age of 91!
Dad was very proud of his military service in the elite Alpini mountain regiment, staying on long after his period of national service came to an end. If you turn to the back cover of your Order of Service, you'll see what a handsome figure he was in his uniform. No-one was surprised that Lina fell for him!
Much of this may be news to his many grandchildren and great-grandchildren, but what they will definitely remember him for was his amazing memory and his readiness to launch into stories of his younger years in Italy and France. Rudy and Sonia always suspected that many of these tales were pure invention but the details were always so consistent over fifty years or more that they're starting to suspect that they might actually all be completely true.
He was a great practical joker, and there are tales of him and his friends simultaneously setting off a series of smoke grenades in Santa Lucia, plunging the village into darkness and confusion. On another occasion during the war he cut through the power cables to the landing lights on the German military airstrip a short distance away, which knocked him backwards and rendered him unconscious for twenty-four hours, seriously worrying his long-suffering parents. One night he daringly removed all the compasses from the fighter planes under the noses of the guards. And no-one could fail to be amused at the story of when he and his friends got a German guard outrageously drunk and took him to the nearest town to have the Italian flag and the words "VIVA ITALIA" tattooed across his chest. The guard… was never seen again.
On another occasion he and his friends got their hands on three hand grenades and set two of them off on consecutive mornings in a ditch outside the German officers' quarters in the early hours of the morning, causing everyone to run around believing they were under attack. When they returned on the third morning to deliver the final grenade, the Germans were waiting for them and they were forced to flee – but only after the firing pin had been pulled, and one of the group had to hold on to it for dear life as he jumped over walls and ditches to make his getaway.
Frank would chuckle with devilish glee when he recounted these stories to his grandchildren – and he seemed to have an endless supply of them, ignoring Lina's insistence that "they don't want to hear your silly stories – they've heard them all already", whilst his grandchildren shrieked with delight, "Yes we do, Nonno – tell us!" To this day they're sure there are probably lots more they'll never have the chance to hear about. Someone said recently "Grandad grew old but he never really grew up", and his family would love to think that's how he'll be remembered.
Frank had many skills, much experience, and he worked hard all his life to make his family and everyone around him happy. He had a very gentle nature and his children don't ever remember him shouting or getting cross. He could be wickedly humorous one moment, absurdly comical the next, but deadly serious when he needed to be. The house seems massively empty without him in it. He was in every way the Rock on which the family was built, and they and everyone else who knew him will miss him deeply. Their only consolation is that he's gone back into the arms of his beloved Lina, which is where he always wanted to be. They were inseparable for nearly seventy years, and at the end of their journey through life they only had to endure three months apart.