Sadly I've decided that my Honda Blackbird, at 255kg, is too heavy for me following
the lower back and nervous system injuries I sustained in an accident in 2014. I may look around for something lighter (and inevitably slower and less exciting) when the gloom of this decision has lifted slightly, but in the meantime, the Bird had to go. The proud new owner has just disappeared into the distance on her. I hope he has as much enjoyment as I've had out of the two Blackbirds it's been my pleasure to possess.
Apologies if you've followed a link from another location but the bike is SOLD. For interest, here is a comprehensive description:-
2005 Honda CBR1100XX Super Blackbird, XX05-plate, 48100 miles, black (the fastest colour)
12+ months' MoT (to 2/8/2022)

Engine size 1137cc, kerbside weight 255kg, top speed (book) 178mph, 0-60mph time 2.9 secs

Fuel injection model (digital dash), mph/kph speedo

Honda HISS2 alarm/immobiliser, two ignition keys

All MoT certificates, partial service history

Metzeler Roadtec Z8 tyres

Linked brakes, braided steel hydraulic brake/clutch hoses
HID headlight (correct reflector installed by previous police owner), spare ballast and bulbs
Fabbri smoked bubble screen, spare original Honda screen
Healtech Speedo Healer (correct to ½mph at 100mph), fitted by Lee Motorcycles
Healtech GIpro X-type digital gear indicator (blue LEDs), fitted by Lee Motorcycles
Headlight protectors (clear and smoked)

Telfer RAM mount, wired for TomTom 410 (satnav not included)
First aid kit, Honda toolkit, Honda owner's manual (unopened), Haynes manual

SW Motech rear rack fitted with Givi mounting plate

Givi 52-litre top box with pillion pad, two keys

Tank protector

Front mudguard extender

Rear tyre hugger, spare original Honda chain guard
New battery (12/7/2021), Tech7 battery conditioner (wiring & connector under seat)
There are MoT advisories for the front tyre and front brake pads:-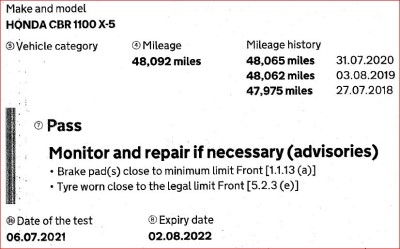 [ngg src="galleries" ids="7″ display="basic_thumbnail" thumbnail_crop="0″]
For those who know me, this is not the machine which was involved in my accident in 2014 and as far as I'm aware there are no faults I haven't disclosed. It's a lot of bike and I'm sure her new owner realises he's bought a real classic in good condition for its age and mileage. If you want to contact me for any reason, email me at legionrider@virginmedia.com or message me via Facebook.